Project route and station options under consideration
In May 2019, at the conclusion of the Alternatives Development phase of project development, the Sound Transit Board identified preferred alternatives and other alternatives to study in the Draft Environmental Impact Statement (EIS), based on technical analysis and community, stakeholder and agency feedback. Read the full Board motion here.
The Board also directed Sound Transit staff to conduct an initial assessment on alternatives that were suggested during the scoping public comment period (February – March 2019) to help inform if they should be studied further in the Draft EIS. Find out the results of the initial assessment below.
Thanks to all who submitted feedback on the initial assessment alternatives from Sept. 13 through Oct. 4. We will summarize and share your input with the Sound Transit Board on Oct. 24, 2019. The Board will then determine if any of the initial assessment alternatives will advance to the Draft EIS for further study.
We're beginning environmental review
The Draft EIS is the next step in the environmental review process. We will evaluate potential impacts and benefits of the alternatives on the natural and built environment and identify potential mitigation measures. The Draft EIS is anticipated to be released in late 2020 for public review and comment.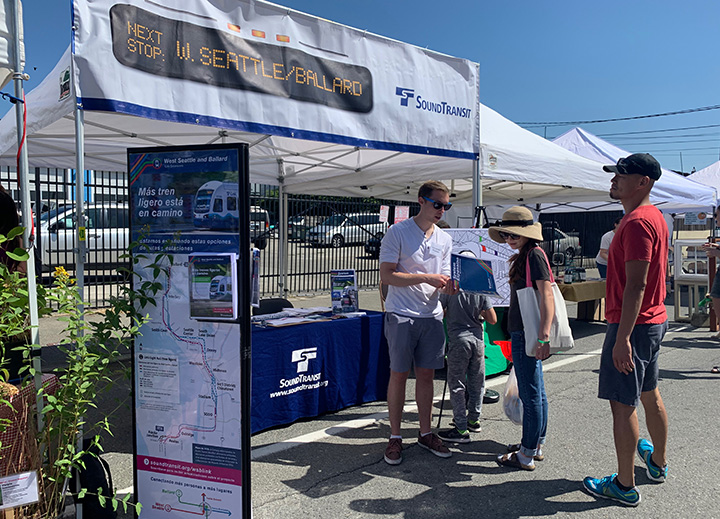 The West Seattle and Ballard Link Extensions will provide fast, reliable light rail connections to dense residential and job centers throughout the region. In addition, a new downtown Seattle light rail tunnel will provide capacity for the entire regional system to operate efficiently. ​
New to the project and looking for more background? Visit the project website to get up to speed!
Potential alternatives in initial assessment
The Sound Transit Board will review the initial assessment results and community feedback in late October to determine whether any potential alternatives should be added to those previously identified for study in the Draft EIS. Below are the key differences between the potential alternatives and the alternatives previously studied in Level 3 of the alternatives development phase.
What's happening next?
Feedback on the initial assessment alternatives will be shared with Sound Transit's System Expansion Committee and the Board to help inform whether any of these potential alternatives advance for further study in the Draft EIS.
Oct. 10: 

System Expansion Committee

meeting
Oct. 24: 

Sound Transit Board

 meeting
Want to learn more about the Draft EIS process and how you can comment? Join us at our fall Neighborhood Forums where we'll answer these questions and many more. We'll also talk about your future Link stations and how to design and build them around your community vision.
Sign up for our email updates to get the dates and locations delivered right to your inbox!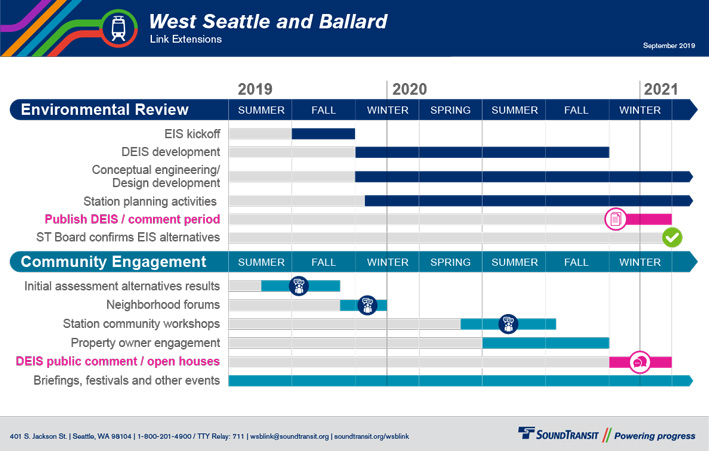 Get involved at any time
Request a briefing
Call the project line to speak with an Outreach Specialist (206) 903-7229.
Email wsblink@soundtransit.org with questions, concerns or comments.
Equity and inclusion ​
Sound Transit is committed to inclusively engaging those who live and work along the project corridors, including historically-underrepresented communities. Throughout planning and environmental review, we are working closely with these communities to identify and understand potential benefits and impacts and to provide opportunities for meaningful engagement. ​